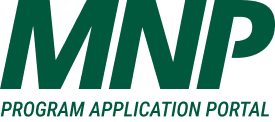 Programs Supported by this Portal:
Buy BC Partnership Program
BC Agriculture and Food Export Program

Returning Applicant?
If you have previously submitted an application to the Buy BC Partnership Program, or the BC Agriculture and Food Export Program using the MNP Application Portal (launched May 2023) then you can login using your previously registered account details. If you have forgotten your password please use the 'Forgot Password' link. Please note that accounts used to submit an application with an Administrator / Management other than MNP will not work on this Application Portal
New Applicant?
Please use the Register Here link to create a new account for your organization. Organizations should limit themselves to one account that can be shared between staff so that if there is a change in personnel the historical application(s) are not lost. In future intakes historical information will be used to pre-populate some core organization details. This will only work if the same account is used to submit an application in subsequent years.